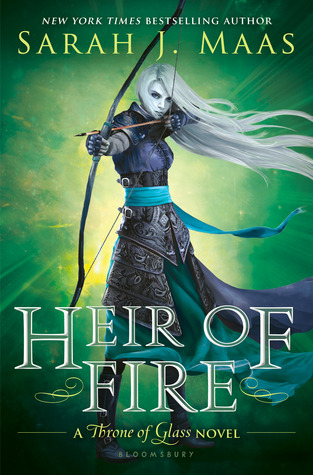 She was the heir of ash and fire, and she would bow to no one.
Celaena Sardothien has survived deadly contests and shattering heartbreak—but at an unspeakable cost. Now she must travel to a new land to confront her darkest truth...a truth about her heritage that could change her life—and her future—forever.
Meanwhile, brutal and monstrous forces are gathering on the horizon, intent on enslaving her world. To defeat them, Celaena must find the strength to not only fight her inner demons but to battle the evil that is about to be unleashed.
The king's assassin takes on an even greater destiny and burns brighter than ever before in this follow-up to the New York Times bestselling Crown of Midnight.
Now I understand why Heir of Fire was a game change for this series. Not only the author added new characters with badass characteristics, she added MAYOR character development. In this installment of Throne of Glass we get to know (FINALLY) what happened in that horrible night and how she survived. Why I waited a year and half for this book? Well because I wanted to read the sequel (Queen of Shadows) right after reading this book (wise decision).

Characters: MAYOR character development, new characters.
Story:
In a different course than the first book, but that doesn't mean that is bad ... the other way.
Setting:
Wendlyn and Erilea.
Narrative:
Third Person, POV of Celaena, Rowan, Chaol, Dorian, Aedion, Sorscha.
Ending:
"She was Aelin Ashryver Galathynius—­and she would not be afraid." Really GOOD . I WANT QOS NOW!!!

Conclusion
: Proud to see my little baby growing up and becoming the leader I know she is.
READ IT.
YOU WILL FOUND OUT ABOUT MANY THINGS.
BUT ONE QUESTION REMAINS...
WHAT IS GOING TO HAPPEN TO EVERYONE? AT THE END OF THE BOOK.
BUT IT'S OKAY ... I HAVE THREE MORE BOOKS TO FIGURE OUT. =D